As the weather changes and summer is in full swing, live music at outdoor venues is a favorite outing for many Colorado Springs residents. Take a look at some of the great spots to hear live music this summer for a perfect family outing, date night, or night out with friends.
Hillside Gardens Groove in the Garden Summer Concert Series: Wednesdays, 6:30pm-8:30pm
1006 S. Institute St. Colorado Springs, CO 80903
The 2018 Hillside Gardens Live Music Series is themed "Groove in the Garden" this year. The venue is located on the south part of Colorado Springs, just east of downtown in the Hillside neighborhood. Formerly a large active nursery, the owner has gradually stepped away from that side of the business to concentrate on the venue itself. With beautiful views of the Colorado Rocky Mountains, Hillside Gardens has become a desirable location for weddings and other gatherings. Just exploring the grounds will keep you entertained, with various collectibles and antiques scattered throughout the venue, yet organized intentionally so it doesn't feel like a junkyard. If you're not entertained by the art, sculptures and unique collection or history, you can relax and enjoy the live music every Wednesday night from 6:30pm-8:30pm. Although this isn't a free event like some of the other live music options, the $7 at the door is well worth the admission for a night of entertainment and a new experience. Plus, your ticket includes one drink at the various bars throughout Hillside Gardens, including a premium wine table if you're willing to dish out a few more bucks. There is seating throughout the outdoor garden areas, plus you can bring your own chairs and blankets to claim a space on the lush grass. Other than a small building with restrooms and the covered pavilion (where the band plays and you can dance if you feel inclined) the venue is all outdoors so weather can play a factor in events and crowd turnout. If you're rushing around after work to attend this event, there are a handful of food carts onsite as well for you to grab a bite to eat while you enjoy the tunes.
May 16 Larry Lafferty and Vehicle
Music Style: Big Band Dancing
May 23 John E Boothe and The Night Watch
Music Style: Rock Soul and Blues
May 30 Mitguards
Music Style: Folk Based Americana
June 6 Psychedelegates
Music Style: 60s and 70s soft rock
June 13 Carrie Dell
Music Style: Eclectic
June 20 Tribe
Music Style: New Orleans R&B
June 27 The Davenports
Music Style: Classic Rock
July 4 TBA
July 11 BJ Estares and Route 61
Music Style: Electric Blues
July 18 George Sisneros
Music Style: Dance Music
July 25 Balanced Rock
Music Style: Acoustic Rock
August 1 Rick Blessing and Trip Ziegler
Music Style: Frank Sinatra and Dean Martin
August 8 Robert Beard
Music Style: 70's – 90's Rock
August 15 Joe and Kate Uvegas
Music Style: Folk
August 22 Redraw the Farm
Music Style: Folk – Rock
August 29 Skean Dubh
Music Style: Celtic
Sept 5 Boyd Sweeney
Music Style: Band Swing Dance
Sept 12 Bill Emery Band
Music Style: Swing and Jazz
Sept 19 Larry Lafferty and Vehicle
Music Style: Big Band Dancing
Gold Hill Mesa's Music on the Mesa Summer Concerts, select Saturdays 4pm-7pm
142 S. Raven Mine Drive, Colorado Springs, CO 80905
If you're looking for a free family-friendly event, this is a great option.  The 10th annual "Music on the Mesa" happens throughout the summer on select Saturday evenings starting June 9th 2018. The location is the central park located in Gold Hill Mesa (called the grand lawn) next to the community center. With various styles of music and groups performing throughout the summer, you are sure to find a genre that fits your style. Plus, there are lawn games, food trucks, and arts and craft vendors for a "festival like atmosphere." Watch for a new concert the 2nd Saturday of each month June-August, and every Saturday in September through the 22nd. The event runs from 4pm-7pm and if you know the right people, you may be able to watch, listen and enjoy from someone's front porch.
June 9th Ben Hunter & Joe Seamons
Music Style: Bluegrass
July 14th Pandas & people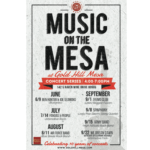 Music Style: Alternative Rock
August 11th Blue Steele
Music Style: Air Force Rock Band
September 1st Jyemo club
Music Style: Latin/Reggae Fusion
September 8th Spinphony
Music Style: Lively Pop-Electric String Quartet
September 15th High Altitude
Music Style: Army Rock Band
September 22nd We Dream Dawn (Featuring Bridget Law of Elephant Revival)
Music Style: Alternative Folk
University Village Colorado Shopping Center (UVC) Free Summer Concert Series, Fridays June-August 6pm-8pm
5230 N. Nevada Ave, Colorado Springs, CO 80918
Just down the road from the quickly expanding University of Colorado at Colorado Springs (UCCS) is UVC Shopping Center. Along with popular stores and restaurants (like Trader Joes, Over Easy, Costco, BJ's Restaurant, Duluth Trading Company, etc.) you'll enjoy some great live music from June – August this summer. The shopping center was designed thoughtfully with an outdoor venue area, next to ice cream shops and restaurants like Hacienda and Smashburger. Come check out the free concerts every Friday night from 6pm-8pm
June 15: Soul School
Music Style: R&B/Dance/Soul/Funk
June 22: The Inman Brothers Band
Music Style: Americana/Pop/Rock
June 29: Ryan Shupe and the Rubber Band
Music Style: Pop/Indie/Folk/Americana
July 6: Wildermiss w/ Special Guest Nina de Freitas
Music Style: Indie/Pop/Rock
July 13: Incendio
Music Style: Instrumental World Music/Latin
July 20: Martini Shot
Music Style: Pop/Rock
July 27: Dotsero
Music Style: Jazz/Pop/Contemporary Instrumental
Aug. 3: Musketeer Gripweed
Music Style: Blues-Fusion/Rock
Aug. 10: Rob Drabkin
Music Style: Indie/Pop/Rock/Acoustic
Aug. 17: Buddy Whittington & the Atomic Fireballs
Music Style: Americana/Blues/Country
This isn't a complete list of the outdoor summer concerts you can catch throughout Colorado Springs, but these are some of our favorites! Here's a list of other events we found:
Pikes Peak Jazz and Swing Society: Jazz in the Parks (various locations), Wednesday nights, 6:00-8:00 pm
https://www.facebook.com/pg/PPJASS/events/