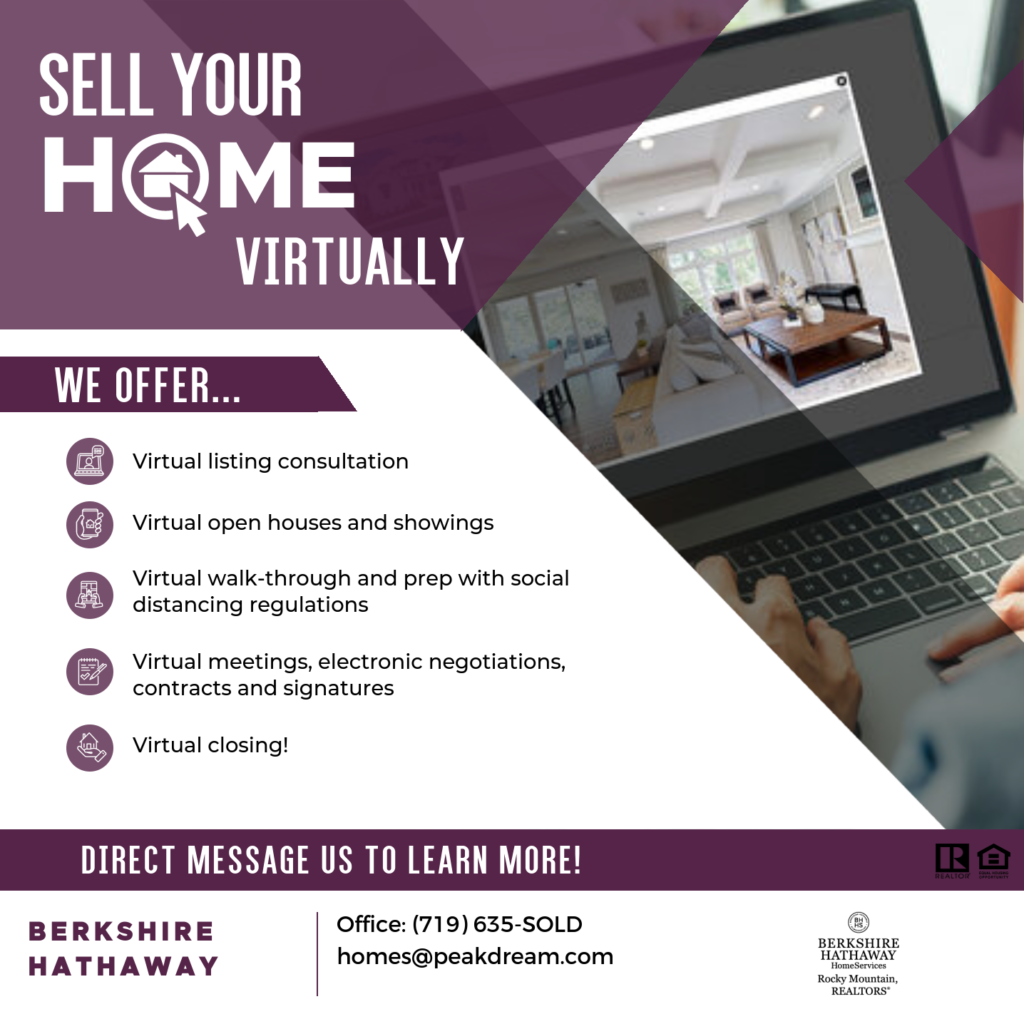 The process of selling your home doesn't have to put your health at risk! We can easily do a majority of necessary activities virtually to get your home sold and you moving to the next phase in life.
Virtual Listing Appointment
We're set up across multiple systems to help talk you through the process of selling. Whether it's a quick phone call or a virtually meeting on Zoom, we are here to answer all your questions about selling your Colorado home.
Virtual Open Houses and Showings
As a full service real estate company, we have secured and contracted technology partners that allow us to show your home to potential buyers without putting them or you at risk. From virtual video walk throughs to step-by-step self guided virtual tours with ability to see 360 degrees in any room, we will help coordinate safe and efficient alternatives to traditional old school marketing techniques like open houses.
Virtual Walk-Through and Prep with Social Distancing
You'll still get our professional advice and recommendations about things to do before listing your home. A virtual walk through will help us indentify and define what needs to be done to make your home the most marketable.
Virtual Meetings, Electronic Negotiations, Contracts and Signatures
Whether you're across town or across the world, our real estate specific technology for sending, signing, and presenting contracts is easy-to-use software that requires no downloads or additional software. It can be used on any device including laptops, desktops, tablets and smart phones. You'll have our full dedication to helping you understand all contracts and offers, plus the same diligence in getting you the best price for your home.
Virtual Closing
Our partners at title companies and mortgage lenders allow us to keep final paperwork organized and efficient with electronic signatures, and virtual closing exceptions which can allow for authorization of video notary depending on circumstances. We're also able to email the final paperwork which often only requires a notary on a few pages, then we make it easy with a printable return label to overnight your completed paperwork.