We're all ready to get out of the house and enjoy the warm summer nights! Live music events are always a great way to relax and appreciate the art of music! We have many talented musicians in the Colorado Springs area, and here are some of the best places to hear live music.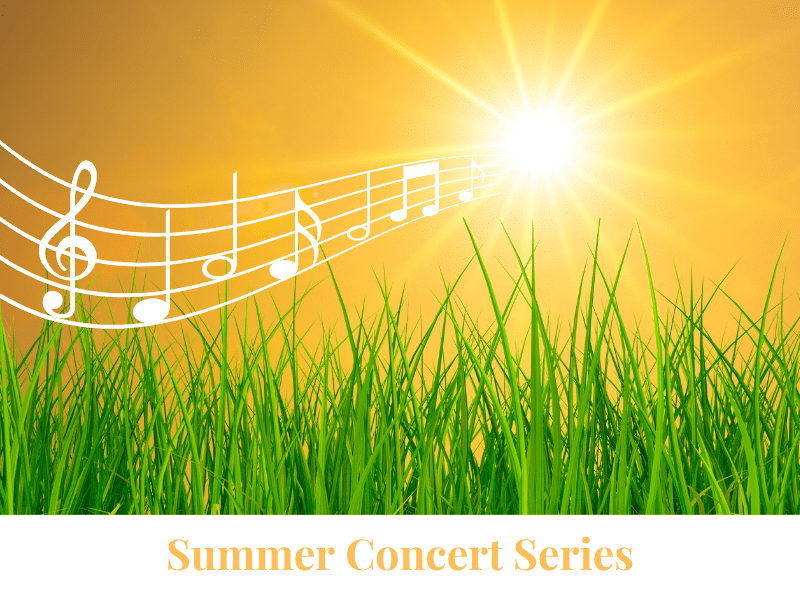 2021 Summer concerts, bands, and live music in Colorado Springs
Hillside Gardens Summer Concert Series – Editors Choice
One of our favorites is just east of the heart of Downtown Colorado Springs. The Hillside Gardens and Event Center hosts live bands and entertainment every Wednesday night 6:00PM – 8:30PM. Your $10 admission also gets you one drink ticket to sip on as you peruse through the beautiful gardens. There are multiple bars, food vendors, and plenty of places to relax on the grass or set up your own chairs. Local bands play in various spots throughout the property so you can find something for everyone. No pets or outside food, but this is an experience you'll want to return to every week. https://hillsidegardensandevents.com/summer-concerts–other-garden-shenanigans.html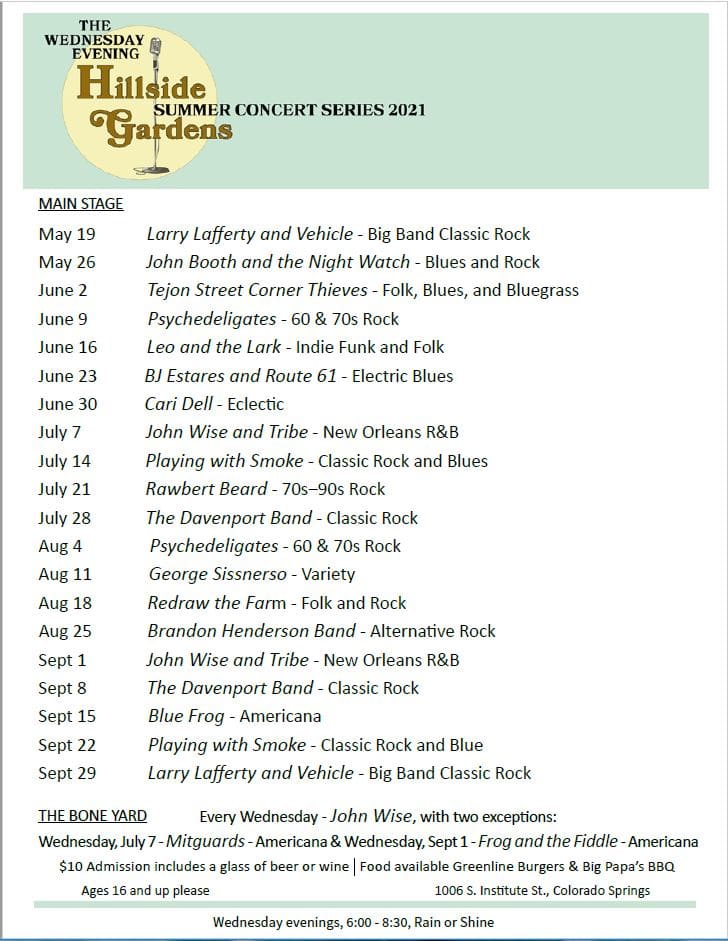 Jazz in the Garden at Grace and St. Stephens Episcopal Church Downtown Colorado Springs
Head Downtown and North on Tejon St to find the smooth sound of jazz. A historic church downtown brings the community together at this outdoor event which is free to the public, but we suggest considering a donation. Look for it every 2 weeks until September 3rd 2021 keeping in mind that it is dependent on weather. However, you can bring food and drinks and enjoy a picnic while listening to live music. There are still some COVID-19 protocols and details you'll need to know before you go: https://www.gssepiscopal.org/music/musicjazz-concerts/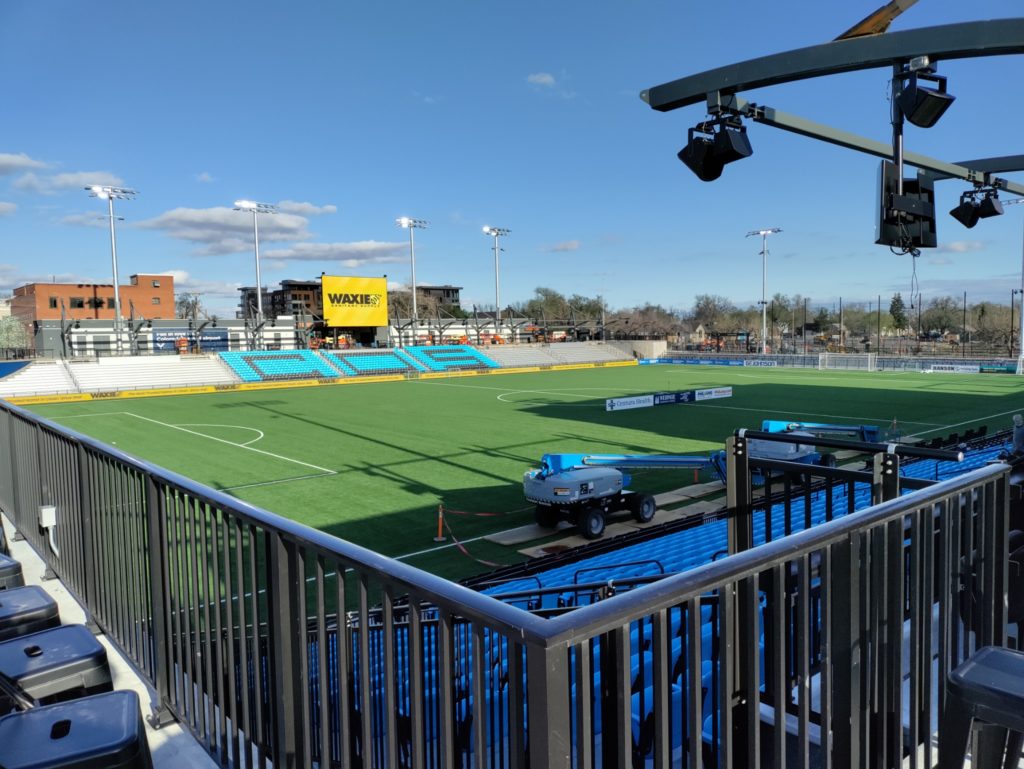 Weidner Field – A community venue for weddings, events, sports, and entertainment
The brand new soccer stadium in Downtown Colorado Springs hosts more than just the Switchbacks FC soccer team. It's also a fantastic venue for live concerts and events, under the name Switchbacks Entertainment. Top musicians and bands are scheduled at this state-of-the-art venue including Old Dominion, Lee Brice, Gabby Barrett and Jimmie Allen See the full line up of events, including Premier Lacrosse League and Switchback FC games. https://www.weidnerfield.com/blogs/weidner-field-events
Manitou Springs Free Concert Series
Monday and Thursday nights are hopping at Soda Springs Park in Manitou. Music starts at 7:00PM and a full schedule can be found at https://manitousprings.org/2021-summer-concert-series/.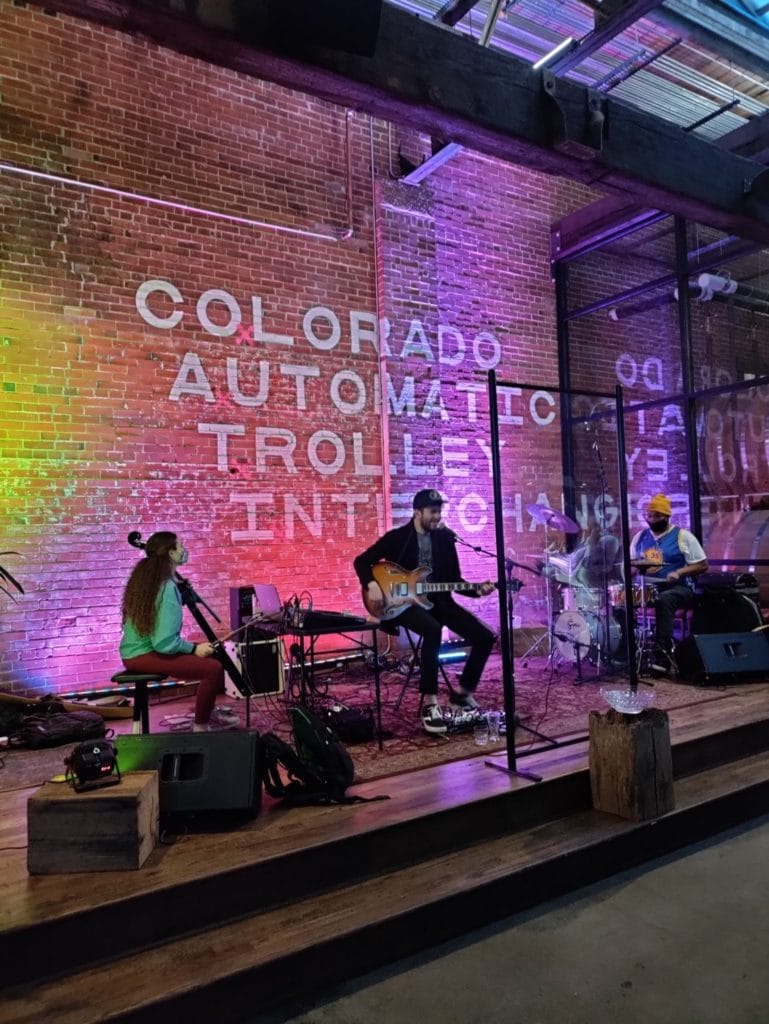 CO.a.t.i Uprise
Probably the coolest place you can be in Colorado Springs, you'll often find live bands on the weekend nights. The hip setting attracts all kinds of people wanting to see the newest of "places to be" in the Trolley District of Downtown Colorado Springs. The food hall setting is casual and allows for a group to each enjoy their favorite food and drink from the many vendors, then all sit together in a trendy atmosphere. From beer to cocktails, you'll find whatever you want at the various bars and brewery. Then, relax and enjoy the live music on most weekends. https://coatiuprise.com/events/
Buffalo Lodge Bicycle Resort
A unique venue in Old Colorado City worth checking out if you've never been. They host all kinds of events from running clubs, bike rides, yoga, and live music on Friday nights during the summer. http://bicycleresort.com/calendar/
Boot Barn Hall at Bourbon Brothers: Sunset Patio Sessions
If you live further North Colorado Springs or Monument area, here's a great option during many Wednesday and Thursday evenings. Casual and free, you can bring your own chairs or blankets and claim a space near the firepits enjoying the mountain views. Music starts at 6:00pm, but come an hour early for happy hour. https://bootbarnhall.com/patio-sessions
First and Main Summer Concert Series
Another shopping center, hoping to grab your attention with some free live music and get you into the shops, restaurants, and entertainment of the town center. Check out https://www.firstandmaintowncenter.com/events for Friday night concerts.
El Paso County Concerts in the Park
All concerts are free and open to the public, 6:00PM – 8:00PM however the location changes. Depending on what style of music you're interested in hearing, there are various nights featuring local musicians. See https://www.elpasoco.com/el-paso-county-parks-brings-back-concerts-park/ for details and locations.
Summer Concert Neighborhood Events
Some of the larger neighborhoods in town will host live music events, including Banning Lewis Ranch (https://banninglewisranch.com/news-events/) and Gold Hill Mesa (https://www.goldhillmesa.com/community-life/events/) but these are still open to the public and typically a free event.
Permanent Music Venues
Don't forget to check the indoor music venues as well for major concerts and national headliners:
Finally, don't forget to check the music calendar at your favorite breweries, coffee shops, restaurants, and bars who often host live music.