Purchasing a home is a significant milestone, often accompanied by a mixture of excitement and financial concerns, especially in a market like this with higher interest rates than most buyers are used to. Thankfully, there are various strategies and incentives available to make the dream of homeownership a bit more accessible. Among these, two notable options stand out: buyer incentives from lenders and lower interest rates offered by builders. Let us help shed some light on how these strategies can help you secure your dream home without straining your financial resources.
Lender's Buyer Incentives: A Helping Hand
The path to homeownership is paved with expenses beyond the down payment. Closing costs, property taxes, and insurance premiums can quickly add up, leaving many potential homeowners worried about how to manage these additional financial burdens. This is where lender-offered buyer incentives step in.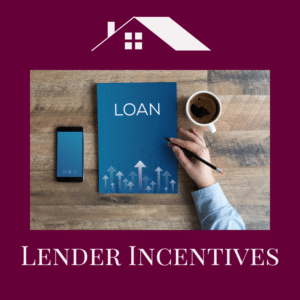 Imagine a scenario where a lender provides a buyer incentive. Our partnerships with local lenders give us access to programs that can help with your down-payment when using a specific mortgage lender. This can be a game-changer, as it directly reduces the amount of money you need to bring to the table. Such incentives can often be applied towards closing costs, effectively lightening the financial load at a critical juncture in the home-buying process.
Buyer incentives serve as an attractive proposition for both first-time buyers and those looking to upgrade. They can provide some much-needed breathing room by offsetting expenses that might otherwise deter potential homeowners from taking the plunge. As you consider lenders, inquire about these incentives, as they can play a pivotal role in making homeownership more affordable and achievable.
Builder's Lower Interest Rates: Building Affordability into Every Payment
In a competitive housing market, builders are constantly seeking ways to attract buyers and stand out from the crowd. One effective strategy employed by builders is offering lower interest rates on financing. This approach has the potential to significantly impact your monthly mortgage payments, making your new home more budget-friendly over the long term. We've seen builders offering below 5% for 30 years, while most rates are above 7% for the typical loan.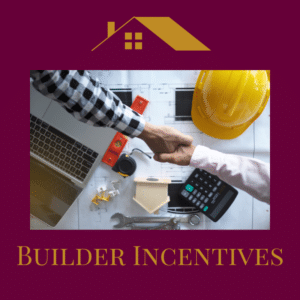 A lower interest rate might seem like a small adjustment, but it can have a substantial cumulative effect. Over the life of a mortgage, even a fractional reduction in the interest rate can translate into thousands of dollars in savings. This can mean the difference between a manageable monthly payment and one that stretches your budget to its limits.
Builders are motivated to offer these advantageous rates to entice buyers and expedite the sale of properties. As a homebuyer, it's essential to explore these options, understand the implications of different interest rates, and assess how they align with your financial goals.
Making Informed Decisions: What to Consider
While both lender incentives and builder-offered lower interest rates can ease the financial burden of homeownership, it's crucial to approach these opportunities with a clear understanding of the bigger picture.
Long-Term Implications: Assess the potential long-term impact of lower interest rates and buyer incentives. A small upfront incentive might be appealing, but a higher interest rate over the life of the loan could negate the initial benefit.
Comparative Analysis: Always compare multiple offers from different lenders and builders. Don't rush into a decision; take your time to evaluate all the options available to you.
Qualification Criteria: Remember that not everyone may qualify for the advertised rates or incentives. Your credit score, financial history, and other factors will influence the terms you're offered.
Budget Planning: While lower interest rates and incentives can make homeownership more affordable, ensure that you are comfortable with the overall financial commitment that comes with owning a home.
Financing a home has become a more flexible and buyer-friendly process with the advent of buyer incentives and builder-offered lower interest rates. These strategies can help you step through the doorway of your dream home without straining your financial resources. However, it's essential to approach these options with careful consideration, research, and a focus on your long-term financial well-being. We would love to help guide you through this process. By making informed decisions, you can confidently embark on your homeownership journey and turn your aspirations into a comfortable and affordable reality.