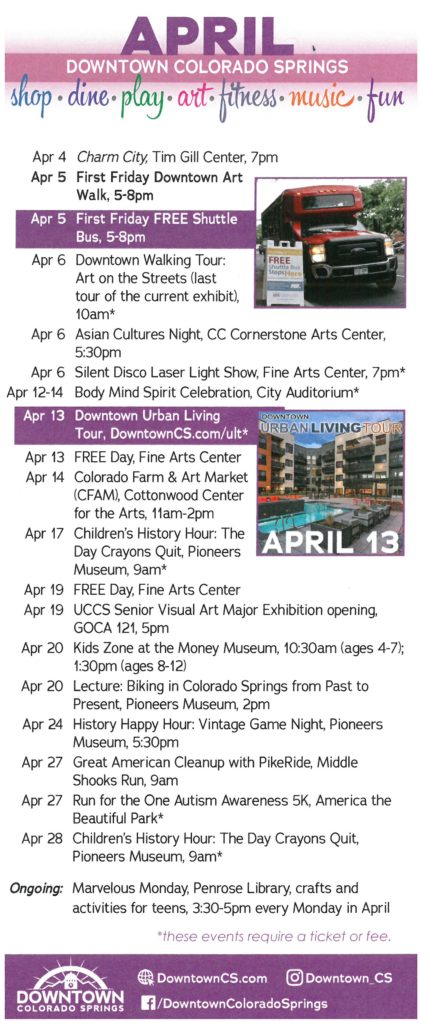 Downtown Colorado Springs is blooming with Spring events for April 2019! There are always things to do in Downtown, from art and museums to food and networking events. Here are some highlights, as well as the full pocket guide event schedule available for download.
First Friday Downtown Art Walk: 5:00-8:00pm Friday, April 5th 2019
The First Friday Event is always a favorite, complete with art gallery openings and exhibits, plus shuttle buses to help you jump to all the First Friday events around town including Old Colorado City and Manitou Springs.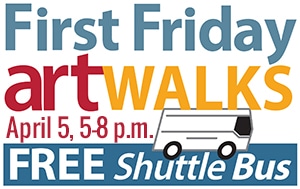 If you can't make the First Friday Art Walk event, consider the Downtown Walking Tour: Art on The Streets event the next day, April 6th, at 10:00am which will be the final tour of the current downtown art sculptures before they're changed out for new art displays.
Be sure to hang around that same night for the Silent Disco Laser Light Show at the Colorado Springs Fine Arts Center at Colorado College, starting at 7:00pm.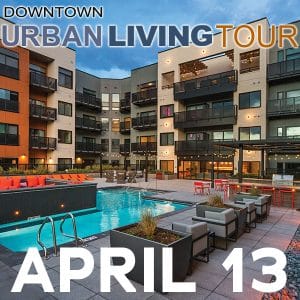 3rd Annual Downtown Urban Living Tour (ULT): Saturday, April 13th, 2019 10am-4pm
Come see some of the best living and social options that downtowners enjoy everyday. From homes, to downtown lofts, to mixed-use buildings with residential and commercial elements, you'll get a first hand look at the culture and hear the stories of these properties. Get your tickets now before prices increase on April 12th.
Fitness and Outdoor Events
Check out the end of the month for fitness and outdoor events downtown. On April 27th, you'll find multiple events happening. First, the Great American Cleanup With PikeRide in Middle Shooks Run Park is sponsored by our local bike share program, Pike Ride. They do monthly park and trail clean ups around the city. Second, if you're looking for a bit more personal fitness and challenge, join the 12th Annual Run for the One Autism Awareness 5K in American the Beautiful Park. Register here for the 5K.
Additional Events and Experiences Every Month
We can't capture everything here, so feel free to contact us directly with questions or additional details. Also, swing by our office anytime at 216 N Tejon Street (across from Acacia Park in Downtown Colorado Springs) and pick up a printed event schedule, downtown map, and a recommendation for our favorite restaurants! Downloadable schedule also available below.
---