We are pleased to welcome our newest agent to the company, Tom Taranto. Tom has joined our Downtown Colorado Springs office and will concentrate primarily on residential real estate buyers and sellers.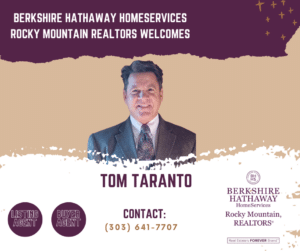 Agents like Tom are hard to find, as he comes to us with 30+ years of experience in real estate. He has been a home builder, property manager, real estate investor and more. Clients will definitely benefit from his wide range of skills and knowledge to help guide buyers and sellers through the real estate journey.
Like many of us, Tom also has experience in other industries and interests that will attract niche audiences because of common life hobbies, careers, and activities. For instance, Tom has taken full advantage of his many years in Colorado by enjoying the recreation of both hockey and snow skiing. He's worked in various parts of both of these industries, including his time as a ski instructor and hockey coach.
Tom resides in Woodland Park, Colorado with his family of a wife and twin sons. He'll be a natural choice for those looking to move into the Teller County area, or those wishing to sell their home. Plus, Tom has prior military service so he understands the needs and financing of VA buyers.
As all of our agents, Tom brings a high level of integrity and care to the Berkshire Hathaway family of agents. It's part of what makes him stand out and will certainly provide him with many repeat clients throughout his career.
Read Tom's full bio and find contact information here: